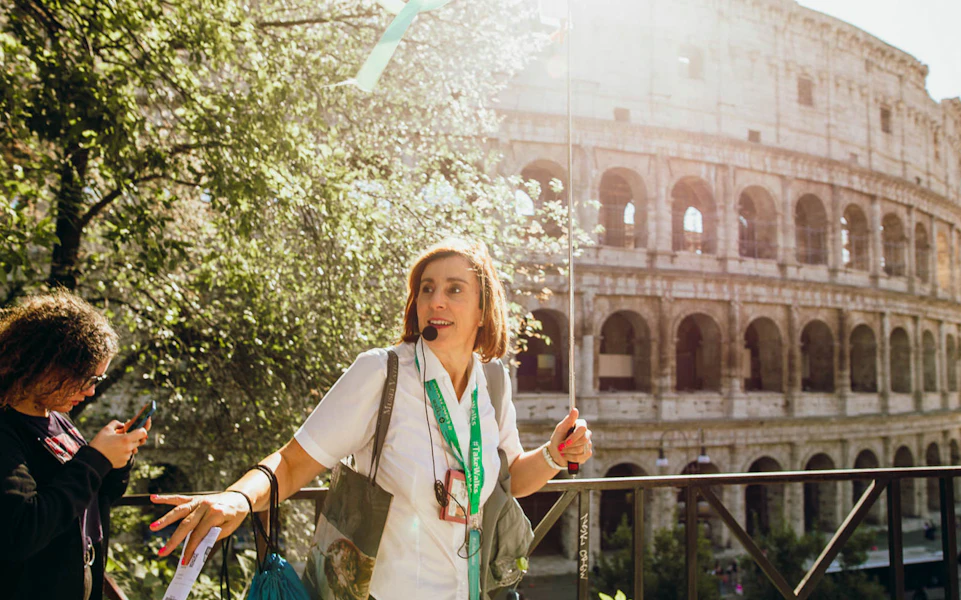 Guided Colosseum Tours
Constructed in A.D. 70-72, the Colosseum is a marvelous work of architecture and a must-see landmark when in Rome. Said to be the largest amphitheater of its time, the Colosseum was Emperor Vespasian's gift to the Roman people. Despite bearing the brunt of an earthquake in 1349, along with surviving a volcanic eruption and decades of plundering, this historic monument has survived centuries and is now one of the world's most popular tourist destinations. The best way to explore the Colosseum and learn about its fascinating history is through a guided tour. Find the best Colosseum tours by going through our detailed guide.
Why take a Colosseum Tour?
Colosseum guided tours give you special access to restricted sections like the Arena, Underground, and 3rd, 4th and 5th floors
Opting for a Colosseum tour includes skip-the-line access, allowing you to bypass long queues and save time 
Your tour guide will most likely be fluent in multiple languages to cater to tourists from different nations
Get interesting trivia and facts about the Colosseum, Roman Forum and Palatine Hill information from your tour guide
Your Colosseum Tour Options
What to Expect from Your Colosseum Guided Tour?
The first step of your Colosseum tour would be to meet your guide who will accompany you past the long waiting lines. You will then make your way into the Colosseum, where you can envision 80,000 spectators waiting for the show to begin! Walk across the Arena floor and soak in the sheer magnitude of this historic amphitheater.
Below the Colosseum Arena is the Underground; here's where animals, gladiators, prisoners, and slaves were locked and made to wait before they made their way to the center of the arena to fight for their lives. Special zones like the Colosseum Arena and Underground can only be accessed in the company of a tour guide, giving you another reason to opt for a Colosseum tour.
After exploring the Colosseum Underground, your tour guide will take you to the Belvedere -- the 3rd, 4th and 5th floors. It was from here that spectators had a bird's eye view of the entire Arena; as a visitor, you can view almost the entire amphitheater from the top! These floors are definitely worth seeing as you get to experience the massive size and height of the Colosseum. 
Through your tour, your guide will tell you fascinating facts and trivia about the Colosseum's history, construction, gladiator fights and more.
Your Colosseum tour also includes a visit to the Roman Forum and Palatine Hill. Explore the length and breadth of these historic landmarks to witness ancient Roman culture and life.
Colosseum Tours FAQ

1. What parts of the Colosseum can I access with a guided tour?
A Colosseum tour allows entry into the Arena, the Underground, and the Belvedere; these areas are otherwise off-limits to individual tourists. It is also important to remember that not all Colosseum tour tickets provide access to these special zones; you will have to purchase tickets that specify access to the Arena and Underground. 

2. What does my Colosseum tour include?
Your Colosseum tour includes a visit not just to the Colosseum, but the Roman Forum and Palatine Hill as well. If you opt for tickets that include tours of the Vatican City as well, your guide will accompany you through the Vatican Museums, Sistine Chapel and St. Peter's Basilica.

3. Do I get skip-the-line access with my Colosseum tour?
Yes. Guided Colosseum tours also include skip-the-line access to the Colosseum, Roman Forum and Palatine Hill.

4. What is the cancelation policy for a Colosseum tour?
Most tickets allow you to cancel 48 hours in advance for a full refund. Ensure to check before you make a purchase.

5. What languages are Colosseum guided tours available in?
Your tour guide will most likely be fluent in multiple languages such as English, Spanish, Italian, Mandarin, German and more. Audioguides are available in 10+ languages, allowing you to choose one that suits you best.